Next stewards meeting is on ZOOM 3rd Thursday each month. Work Party two days later.
---
Culvert Cleaning
In order to comply with the Forests and Fish Law our 31 culverts are checked and cleared in late September before the rains arrive. We wait this long to allow standing water to be available for life forms requiring surface water. Culvert 5 was plugged by the beaver last winter, but the added road fill kept the water from flooding out the trail.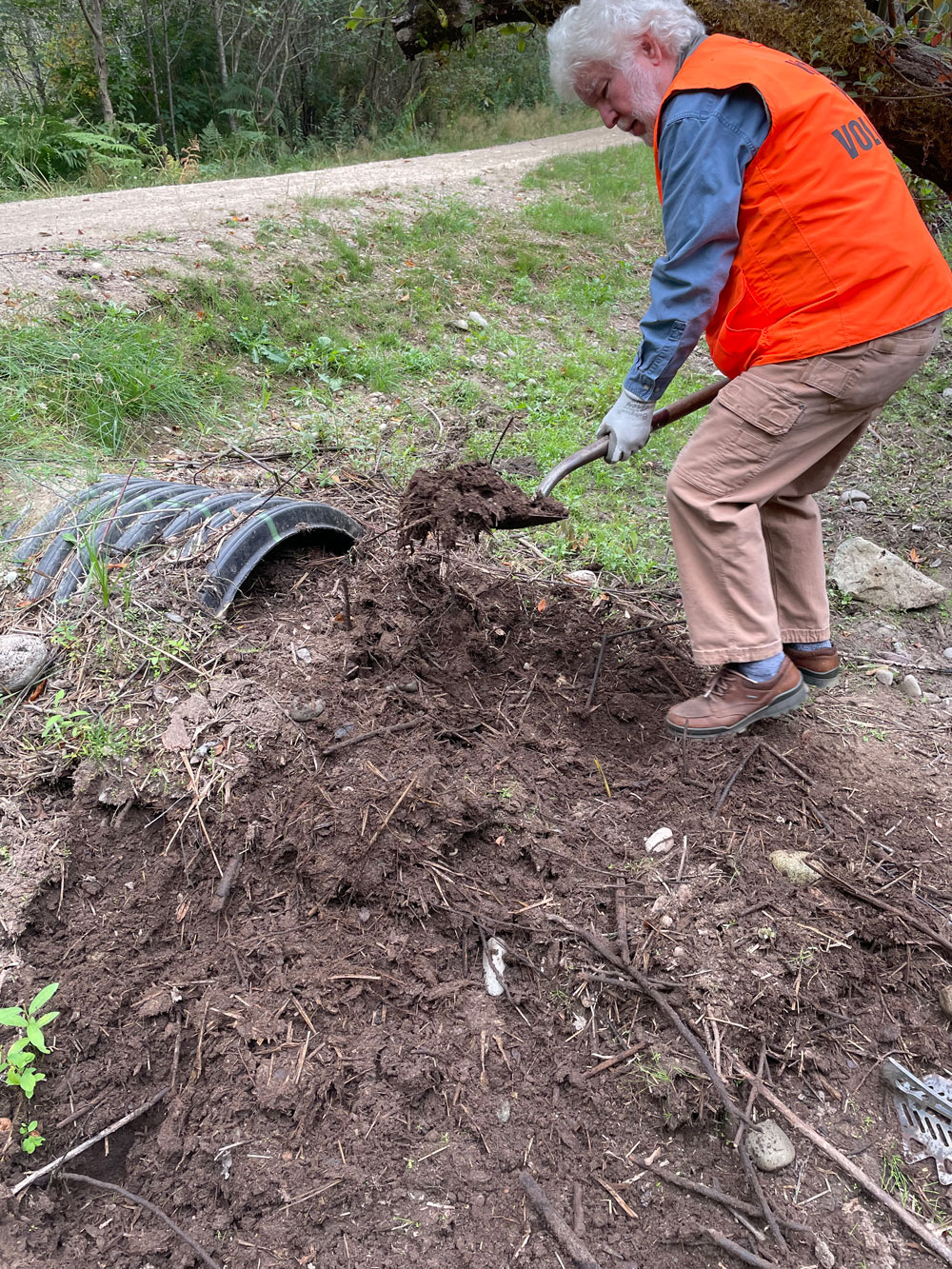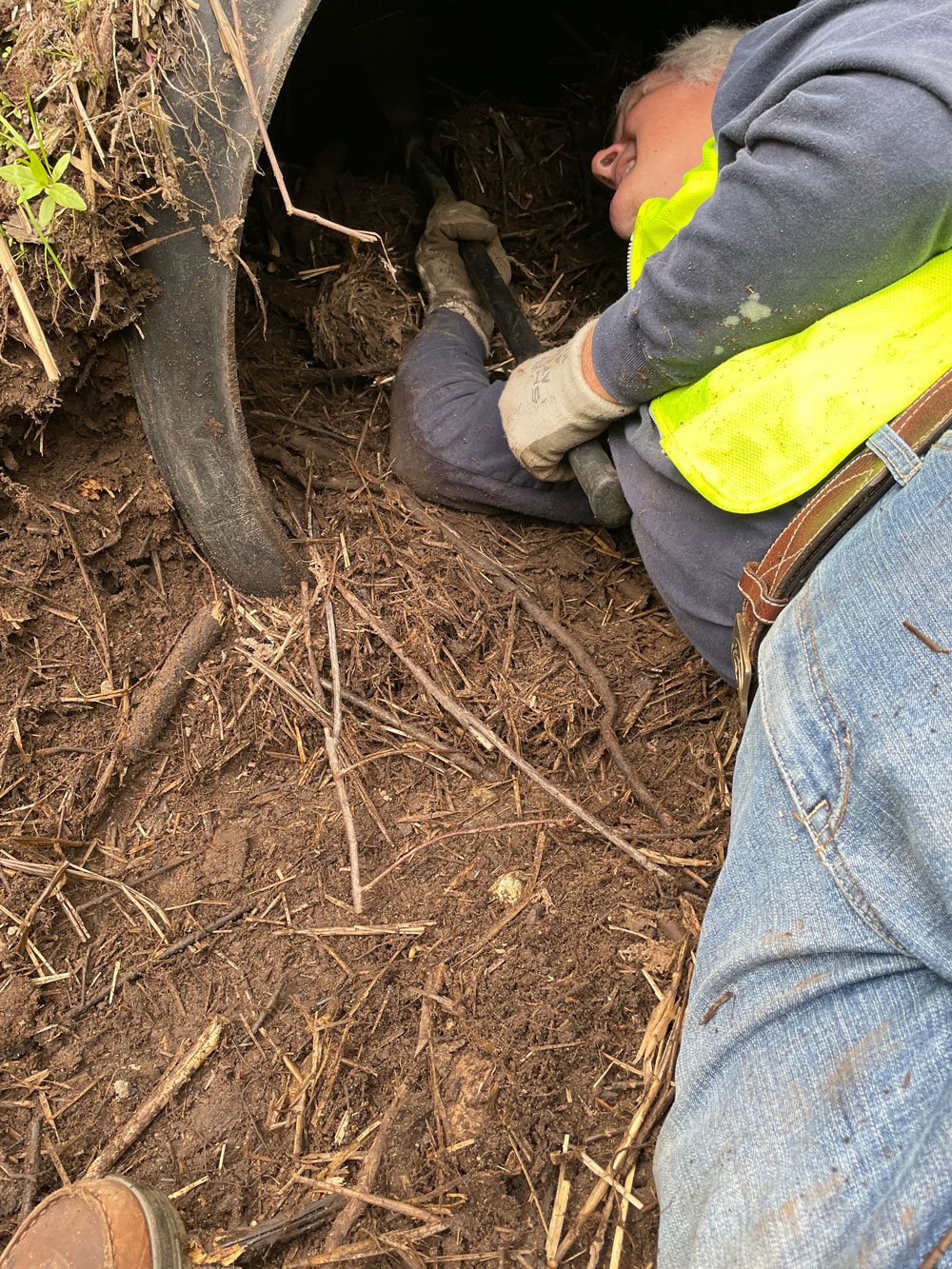 It took several hours to remove debris from this 36 inch culvert.
Silverdale Rotary Presidents Project 2022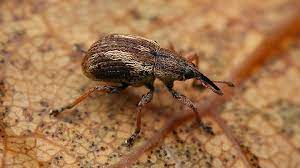 Newberry benifited from this years Rotary Presidents Project as Rotarians attacked the Scotch Broom in Paper Birch Meadow and returned a few days later to plant native plants. The removal limits seed production and the plantings will provide shade to keep the current seeds dormant. We use every tool in the box when controlling Scotch Broom with the exception of pesticides. We pull, we cut, we plant cover, we mow and rototill. It is an ongoing project that is long term in finding a resolution. We are encouraged by the recent introduction of the Scotch Broom Beetle Bruchidius villosus. and the The Scotch broom gall mite. Several hundred dollars worth of native plants were procured and planted by Rotarians to benefit the park.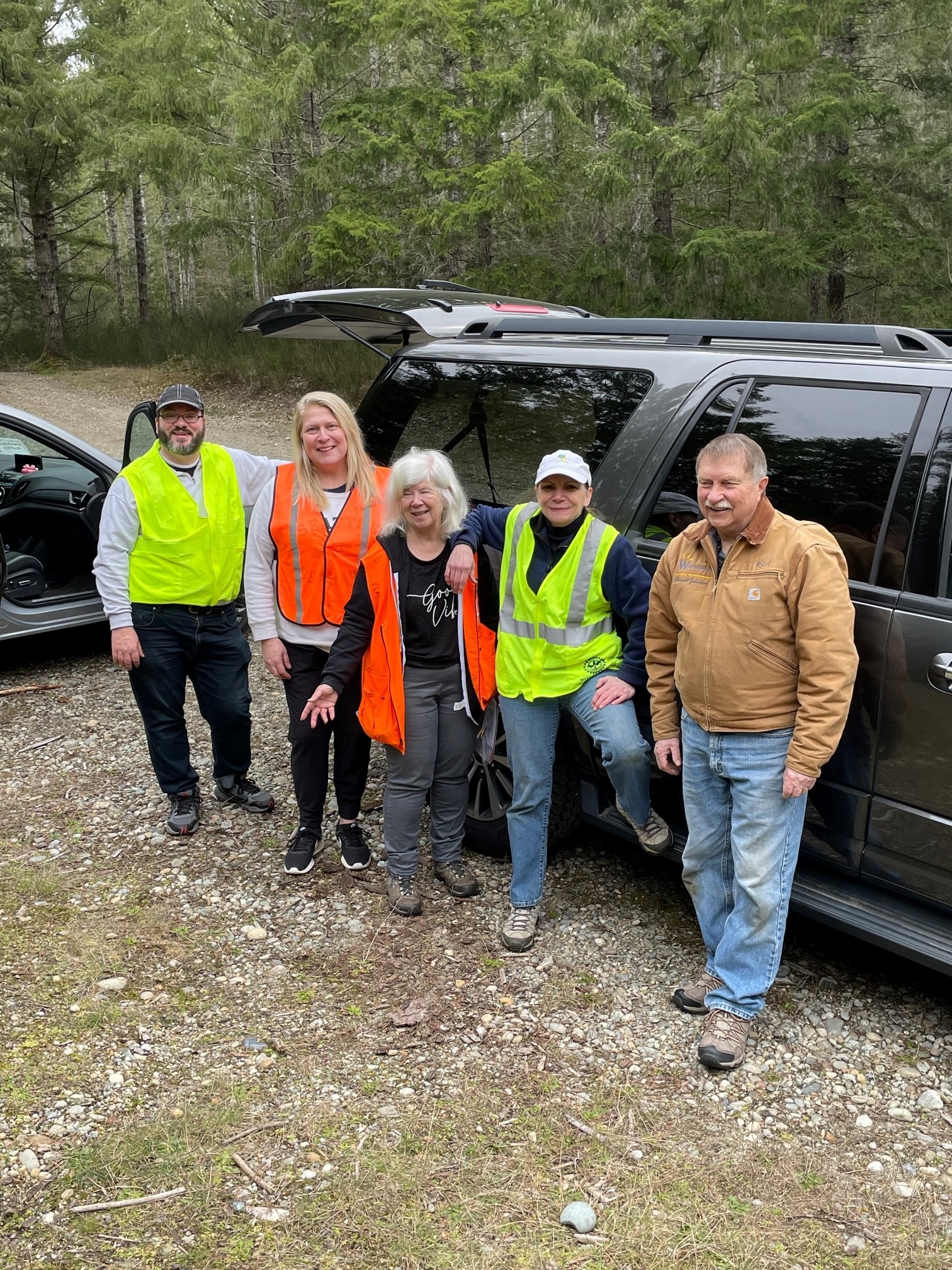 Broom Slayers Attack
A great shout out to the volunteers who attacked the Scotch Broom near the Childrens Forest and along KSS Trail.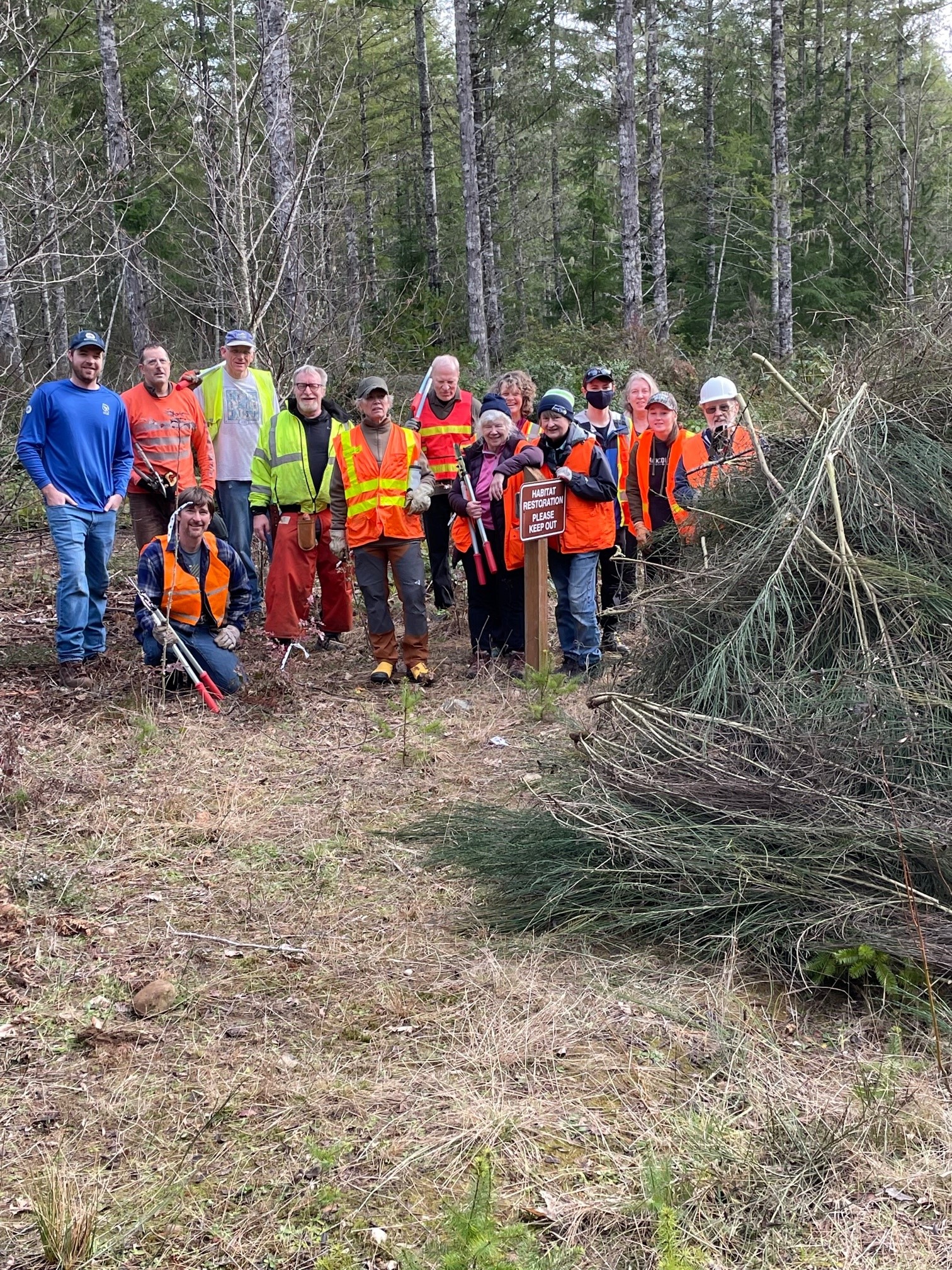 Trees Down
A total of twelve trees were down on Old Loop Parkway after the recent storms. A reminder to take care when walking in the woods on windy days. Stewards and Friends spent a total of three days cleaning up the Parkways so far with more to do. A crew of stewards will be out this weekend to sweep all ancilliary trails.
Special thanks to Pat, Mike, Nancy and Karl. Karl's mountaineering/recovery skills were applied to logs using a snatch block to place LWD back into the forest. As Large Woody Debris they will persist in the environment much longer than those we cut into short lengths. This provides long lasting habitat for amphibians and insects.
Finally!
We started evaluating Culvert 5 about 11 years ago. WNEK Engineering provided us with a Santa Monica basin analysis and determined the culvert should be 36" in diameter. WDFW biologist Gina P decided we needed to do more research. We did a stream analysis and pebble count and here we are, 11 years later culvert 5 has been brought up to current fish passage standards.
The new culvert is zero slope and partially filled with stream bed mix. Thanks to KC Parks forester Arno, WSU Stream Stewards and Friends Karl, Frank, Ralph, Joel and Bill. Special thanks to Ralph for hauling all those buckets into the culvert and Joel for filling them. Several more loads of road fill need to be brought in to complete this project.
Park steward and friend Keith Asbury delivered stream bed mix and will bring in other loads next week. Funding was through FONHHP in-kind donations of culverts, equipment and reduced rate for fill materials. KC Parks rented the excavator.
Culvert 5 Compliance
For those who waded through the water over Old Loop Parkway at culvert 5 this past winter, thank you for your patience. Beaver were foraging north of the parkway and we did not want to disturb them. They extend their foraging range during times of high water in order to feed in areas not accessible during low water. This allows time for willows to recover near the main pond. Culvert 5 will be replaced with a new 36" poly smooth bore to comply with Fish and Forests laws of Washington State beginning on the 13th of September.
Ribbon Cutting
Dedication ceremonies were held on Saturday the 8th of May at the new fish passage system on Old Loop Parkway. It was a great opportunity to recognize the many volunteers that made this project happen.
Park Use Off the Charts
The COVID Pandemic has created a huge increase in park usage. There are 10 dogs in front of me, mine is with me and there are three more behind me off leash. There are about 50 cars parked at the "K" and 25 at the Holly roundabout every two hours, on sunny days. On New Years Eve, a sunny day, there were 300 cars between 9AM and 2 PM parked at access points to the park. Please stay on trails. We are lucky to have such a nice place to get away from daily stresses. Thanks for bagging your dogs poo. Those of you leaving it bagged but on the trails are helping a bit but not much. Dog poo contains undigested proteins that are sniffed out and eaten by coyotes, birds and racoons among others. This spreads viruses such as Parvo, Distemper and others to other dogs as well as wildlife.
---
Un-authorized Un-permitted Stream Work
---
Several state agencies are seeking the identity of the culprits that plugged Culvert 5 on Old Loop Parkway between KSS and Deer Fern Trails. Just kidding, that is an internet trick known as a "click grabber" designed to get you outraged enough to read some more. We know who did it and are glad to have them in our park. During periods of high water, beaver will venture out from their summer foraging area and feed on trees that are not normally accessible due to low water levels. They are feeding on the willows near the culvert and must have water nearby to escape predators. We ask your patience and want you to bring your boots when hiking as Old Loop Parkway will be underwater until spring. If we cleared the culvert, the beaver would not be able to feed in that area. They will return to the large pond when rains stop, and Culvert 5 will be cleared when the water table drops to a safe level. Thank you for protecting our wildlife, water and fish. A very good book on beavers "Eager, The surprising secret life of beavers and why they matter by Ben Goldfarb.
Annual MLK Work Party
For the past few years, a large group of volunteers from Hope International have blessed us with their labor in honor of Doctor Martin Luther King Jr. This year they attacked the Scotch Broom on Rhodie Hill and cleared it to the crest of the hill. Young and old joined in and made the task enjoyable, or at least as enjoyable as possible for such an odious task.
---
Habitat Improvement Thinning
Processors and forwarders will be back in the park starting around March 2020. The area near the parking lot is scheduled to be thinned down from 300 trees per acre to around 130 trees per acre. Thinning for wildlife is best at around 100 TPA but this is the best compromise for wildlife habitat that is socially acceptable. Smaller trees, those marked with a blue ring, will be removed and sold with proceeds going to parks. Please be patient and watch for trail closures in the area. Ribbons locating setbacks from wetlands, and timber harvest boundaries are currently being placed on trees. Just prior to starting operations stewards will place ribbons adjacent to each side of the trails to prevent processing and limb dispersal from blocking them. Please do not remove any ribbons. Tree limbs are left in the forest for mushrooms,soil tilth and forwarder weight distribution. If the processed limbs are placed on trails it will take months to clear the woody debris before they can be reopened. For more information contact the parks department.
Bridge Project Completed
All trails are now open. Thanks to all our park users for patience while we installed the bridge. To those who did not care about our trail closure, you complicated our task. This is the culmination of six years of research and engineering. Funding was through donations and forest product proceeds derived from environmental thinning from Kitsap County Parks. Labor was provided by volunteers. Special thanks go to: Tom Coleman, Anjalee Banerjee, Bill and Diane Wasson, Kitsap Community Foundation, Arno Bergstrom, Keith Asbury, Colen Corey, Karl Erickson, WNEK Engineering, Pacific Bridge, Milican Cranes, Dori Leckner, Brittany Gordon, Eileen Nichols, Alison O'Sullivan and hundreds of others.
---
Beaver Loop Boardwalk
This project was funded by donations and grants at a total cost of about $5000.00. The very first donation was from the Back Country Horsemen. The geo-tech report Shawn WIlliams WNEK Engineering, the gabion baskets Kitsap County Parks (brush picking proceeds) Quarry Spalls and 2-4 minus, Keith Asbury. Thanks to Silverdale Rotary, Back Country Horsemen, and NHHP Stewards for financing this project. A special thank you to Karl Erickson. This project had been stuck for several years because we could not find a safe, cost effective, environmental design that would satisfy all stakeholders. The first design was to be a pier post design using Diamond Footings. The engineer helping us was worried about lateral shear and wanted us to us a lot of galvanized material. WDFW and the Suquamish tribe were opposed to that. A second design was scrapped because WDFW was opposed to concrete being placed in a wetland. Karl came up with the old school tried and true Gabion Footings supporting a girder and truss design wooden boardwalk. Once we began excavation for footings, we discovered an old Corduroy Road, and a narrow gauge rail bed had been buried in the wetland. The center gabion ended up being 10 feet tall with six feet of it below grade to find soil that would support it. This design would give us the strength we needed on the guardrails and tread to meet equestrian requirements, as well as hikers and mountain bikers. Cedar beams were placed on one foot centers and capped with a waterproof membrane. Thanks to Paul Larsen (NK Steward) and his brother for milling the salvaged cedar logs to make the stringers. Thanks to Arno Bergstrom for saving the cedar logs for us during road building operations. Volunteers from the Navy and CK Schools participated in finishing the approaches and hauling rock. We are 99% complete, and once the Hoof Grid is in place will be done. The boardwalk is open for use.
---
Annual Rummage Sale
Great sale, thanks to all who donated. Stewards made a record $2000.00!
---
Beaver Food
Student volunteers from CK Schools Transitions program planted willows in the Little Anderson Beaver Pond preparing for the return of the beaver. They have been absent for a few years, and our pond water level has suffered because the dam has not been maintained. We hope these willows are tasty. Live stakes were collected and prepped by friends and stewards from willows along Old Timber Parkway.
---
Annual Martin Luther King Jr. Work Party
The usual band of suspects showed up to help Hope Worldwide complete the Type II Puncheon work on Bobcat Run. This project has been on going and moving forward with a lot of help from NAVHOSP Bremerton Pediatrics Ward volunteers led by Trey Irwin and stewardship president Tom Coleman. Thanks to MTV Home Repair for loan of the company dump trailer, Dennis, Autumn, Trey, Frank, Nancy, Pat, Joanne, Tom, Colen and Yvonne. Use the link below (Learn More...... Honoring Dr. King) for more information.
Vandals Return
We have not had a lot of vandalism in the park but it seems to be on the rise. Several trail signs were torn down along Salish and Bobcat down to Old Loop. The Children's Forest has been plagued with several hits and interpretive signs pulled up and thrown throughout the park. Please keep an eye out for us all and report any vandalism. Thanks
Noxious Weeds
We use any and ALL methods available to control Scotch Broom. We hope to add mulching to our arsenal of control tools and are doing an experimental control project on Coyote Loop Trail. Steward Gail Rase donated bales of hay and stewards spread it over the log landing to prevent sunlight from reaching the seed bank. We will keep you posted.
>
Boardwalk Completed
Stewards completed the boardwalk on Salal Trail during the monthly work party. The addition of a bullrail and erosion control completed the installation. As a final engineering test, we weight tested it.
Boardwalk Progress
After three years on the Work Plan, stewards finally got things moving with the boardwalk installation on Salal trail. This wet spot formed after years of silt erosion from "John Wayne Hill" and Coyote Trail silted out the seasonal stream channel. A large puddle forms each winter and has been causing patrons to make new trails and find other ways to cross without getting wet feet. A great work party with 5,400 lbs of concrete to move by hand we were fortunate to have three great young sailors from NAVHOSP Bremerton Logistics Division. Not only did they load all the concrete, they pulled Scotch Broom between loads. Scheduled for completion soon. Thanks for your patience.
Volunteers
Learn More -->
Honoring Dr. King
Learn More -->
Stewards Work Party
Stewards and friends installed rescue locator tags at all trail intersections on Saturday the 18th of November. The work party was the culmination of several months of volunteer work and community cooperation. The bright red tags purchased by Kitsap County are trail intersection markers that will guide CK Fire and rescue to your location in an emergency. If there is an emergency in the park, call 911 and give the locator number (NH14 for example) of the nearest intersection. Accurate mapping of all trails and intersections was completed with AES Consultants taking the lead. Steward volunteers Bill Wasson, Steve Ottmar, Tom Coleman and Frank Stricklin gathered intersection and culvert coordinates. Several trails had been rerouted over the past 5 years and steward Steve Ottmar updated the trail map GPS coordinates and mapped the location of the re-routes. Bill Wasson created a spreadsheet and marking scheme for all culverts and emergency locator tags. KC Parks volunteer coordinator Lorie Raymaker turned our info into tags attached to Carsonite strips allowing us to attach them to existing signposts. The updated map with all the emergency locator information was geo anchored and uploaded to the MAPRIKA server. If you have the old map, NHHP North on your smartphone, delete it and download the latest version (also called NHHP North). If you download the map at home, the GPS function of MAPRIKA will still work in the park even without cellphone service.
All photography provided by volunteers.